"What are you asking me? 'How do I connect with another human being?'"
The Attack
episode 139 aired on 9 March 2016. It was hosted by
Alex Corea
and
Justin Small
.
In Evanne's absence, Alex announced that it was BroDay! An oiled up Corrado came out to bro it up!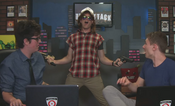 Cleetsus the hillbilly messiah (Kevin) stopped by to show off his messianic superpowers. He claimed he could grow a mullet in a day and he turned water into Coors Light before our eyes. The he sniffed out Los' presence in the studio and used his powers to build a wall to hold him back. Finally, he made Alex pregnant and delivered the baby!
Alex told a story about name dropping Justin Roiland and Kevin to Tom Kenny in an H&M.
KevCap waved guns in the air in front of a greenscreen and Kevin offered $100 to the person who sent him the funniest use of it in a video in the next two weeks!
Kool-rado burst through a wall yelling "OH YEAH," but he injured his head and fell to the floor dying. Alex called Dr. Butts to come and save him, but he also hurt himself. Then they exploded.
Alex discussed the deletion of attkMighty, since y'know, Bulbasaur isn't theirs. RIP little guy.
In The Rundown, Alex and Justin discussed:
The Division was released, and North American servers went down
Riot Software acquired Radiant Games and cancelled their IPs
The show closed out with TPOTSWIC.
Ad blocker interference detected!
Wikia is a free-to-use site that makes money from advertising. We have a modified experience for viewers using ad blockers

Wikia is not accessible if you've made further modifications. Remove the custom ad blocker rule(s) and the page will load as expected.