"This ish is bish."
The Attack
episode 138 aired on 7 March 2016. It was hosted by
Alex Corea
and
Evanne Friedmann
.
Alex introduced editor Kevin Cappiello as the newest member of the Attack team!
Alex recounted a story that Corrado told in Discord about having a nightmare that a bunch of Australian dudes had sex with his wife.
In a segment called "Vidvestigators," Alex and Evanne tried to decide if a Pile video of dough resting in a Domino's bathroom was real or fake. Then Alex showed a precut "Papa Butts" bit that was the first thing KevCap cut for the show as an employee, though he tried to distance himself from it. KevCap would get an opportunity to recut it much later.
Evanne demonstrated her skill as a "baby player" on the baby organ. Alex stepped up to take a turn and Officer Fupa (Kevin Pereira) jumped in. However, it wasn't to stop the baby brutality, it was to arrest Alex for touching that 14-year-old boy over there (pointing to Evanne).
The show was sponsored by Audible. Although Alex tried to talk her out of it with a clip, Evanne read her children's books aloud for Audible to hear in the hopes of getting them approved. They turned out to be quite inappropriate.
In The Rundown, they discussed:
Nintendo revealed details of their new amusement park
IGN revealed the release date of Overwatch without permission
The show closed out with TPOTSWIC and they thanked TwistedShots for a 5 pound bag of gummy bears.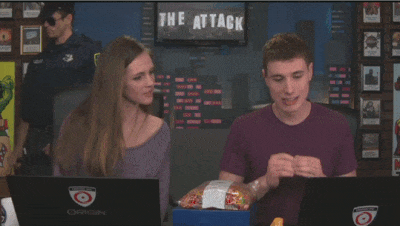 Ad blocker interference detected!
Wikia is a free-to-use site that makes money from advertising. We have a modified experience for viewers using ad blockers

Wikia is not accessible if you've made further modifications. Remove the custom ad blocker rule(s) and the page will load as expected.