"I've paid for everything the past five years! Except USC and my insurance...."
The Attack
episode 137 aired on 4 March 2016. It was hosted by
Alex Corea
and
Evanne Friedmann
. After a few
Pile
videos, Alex announced the Attack Ultimate Ninja Mercenary Challenge between
Corrado
and him. There was a donation incentive of $500 to add
shock collar
punishments during the challenge.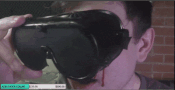 Joey was forced to watch NBC shows in VR until his eyes bled.
The donation incentive was met and Kevin appeared so he could add another $200 to the incentive to add the tennis ball cannon to the challenge. Corrado and Alex protested, but it was of course in vain. That was quickly met and the incentive rose to $1500 to catch a paintball with chopsticks!
Kevin also briefly mentioned that they would be losing their studio space at the end of the month. This was later extended to the second week of April. Alex threw a hamburger at Corrado and a bible at Blythe. Evanne threw a meatball into Yaniv's mouth, but he choked on it and died. Dr. Butts arrived to help, but was only there to help resuscitate the meatball! Sadly the meatball could not be saved.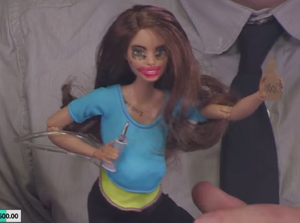 The show was sponsored by Eaglemoss action figure subscription service. Alex made action figures of himself and Evanne. Evanne's was pregnant and featured "water-breaking action!" In The Rundown, Alex and Evanne gave a list of the four most infuriatingly-difficult indie games:
#4: Super Meat Boy
$3: Idarb
$2: Keep Talking and Nobody Explodes
#1: QWOP
The Ninja Mercenary challenge began! They simulated Fruit Ninja by cutting fruit with a katana (and were shocked when they failed). Then they tried to catch tennis balls from the cannon and were hit with a kendo stick when they failed. Last, they tried to catch a paintball with chopsticks, which ended exactly like you'd expect.
Ad blocker interference detected!
Wikia is a free-to-use site that makes money from advertising. We have a modified experience for viewers using ad blockers

Wikia is not accessible if you've made further modifications. Remove the custom ad blocker rule(s) and the page will load as expected.