"Guys don't describe me." -Evanne
The Attack
episode 136 aired on 2 March 2016. It was hosted by
Alex Corea
and
Evanne Friedmann
. Alex constructed a vape visor, a cologne cap, and a "slumber hat."
He also showed us the contraption his "roommate" built to roll himself out of bed in the morning.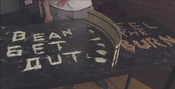 Then he recreated an experiment from another Pile video where he bowed on a piece of metal and it spelled out political messages.
Alex took a hard stance against shaving his head for the show.
In The Rundown, Alex and Evanne discussed:
PS4 getting lots of updates, including the ability to appear offline. (A clip from Episode 85 was shown)
Next company to pull out of E3 is Activision
The show closed out with TPOTSWIC.
Ad blocker interference detected!
Wikia is a free-to-use site that makes money from advertising. We have a modified experience for viewers using ad blockers

Wikia is not accessible if you've made further modifications. Remove the custom ad blocker rule(s) and the page will load as expected.