"What??? That CAN'T be allowed on Twitch!"
The Attack
episode 129 aired on 10 February 2016. It was hosted by
Alex Corea
and
Evanne Friedmann
.
Alex announced that the show was moving from Patreon to Gamewisp. (They have since moved back.)
A guy Evanne was going on a date with donated $10 to the stream!
Alex almost snapped his tongue in a mousetrap but chickened out. Los put a donation bar on screen for Alex to do it at $1000.
Alex slowed down the footage of Evanne showing off her "sexy shirt" from the previous episode and it revealed something disturbing about her figure (Corrado dressed as Evanne again).
Evanne got roped into the mousetrapping too.
Alex invented a "human finger analogue" called the Handy-Dandy to help people reach things. It was totally not a dildo taped to the end of a broom handle. An infomercial played, showing all kinds of handy uses for it, including one now-infamous one where Yaniv had is pants down..... I ain't giffing that. In fact, every gif I've made of this segment has been taken down by Wikia's mods. You're gonna have to watch the VOD.
Alex went over the new Gamewisp tiers in-depth.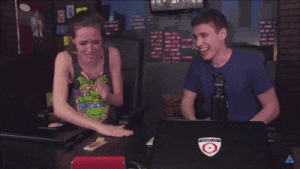 In The Rundown, Alex and Evanne discussed:
Amazon released a new free-to-use game-building engine, Lumberyard.
Overwatch closed beta rereleased and features announced.
TPOTSWIC followed.
To satisfy the donation incentive, Alex and Evanne played a game of chicken with mousetraps. Evanne lost and was shocked.
Ad blocker interference detected!
Wikia is a free-to-use site that makes money from advertising. We have a modified experience for viewers using ad blockers

Wikia is not accessible if you've made further modifications. Remove the custom ad blocker rule(s) and the page will load as expected.