Evanne: "You can't shove a baby back up a woman's vagina."
Alex: "Hey, we've been on different sides of the internet, if you know what I mean."
The Attack
episode 124 aired on 27 January 2016. It was hosted by
Alex Corea
and
Evanne Friedmann
.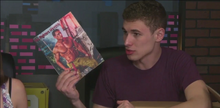 Alex showed off all the gifts his creepy uncle used to get him when he got good grades in school. Later he played the trailer for "We Dare: Extreme Rules" in which he got coked up, killed Yaniv, and then shot himself.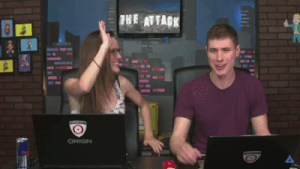 In The Rundown, Alex and Evanne discussed:
New Star Wars Battlefront DLC
EA pulling out of E3 and doing their own show a few days earlier
Twitch banned Yandere Simulator from being streamed.
Alex and Los went to VR LA.
The show closed out with TPOTSWIC.
Ad blocker interference detected!
Wikia is a free-to-use site that makes money from advertising. We have a modified experience for viewers using ad blockers

Wikia is not accessible if you've made further modifications. Remove the custom ad blocker rule(s) and the page will load as expected.