"She's got the cricket in her, she's hoppy!"
The Attack
episode 117 aired on 8 January 2016. It was hosted by
Alex Corea
and
Evanne Friedmann
.
Los
was out sick so
Kevin
was running the board for the show. Kevin created lots of new graphics.
The show was sponsored by Razer, who donated a mouse and headset for a giveaway.
Chef Dusty Clams (Kevin) came by the set to show off some recipes, but his ineptitude and camera-shyness, and 'Nam flashbacks led him to forcefeed Alex a piece of burnt toast with mayonnaise and hair on it, a "power shake" featuring raw eggs, shortening, and dirt, and a concoction that included freezedried crickets and mealworms. Alex vomited. A lot.
We learned all about Evanne's crippling fear of crickets. Evanne avoided a forcefeeding of crickets by running away screaming "Fuck you!" After pressure from chat and a huge donation from TheXin1, she voluntarily ate a cricket.
Alex shouted out JBoyTheGreat for making an Attack-themed Pip Boy mod for Fallout 4.
Blythe presented.
Marc Laidlaw left Valve, Half Life 3 NOT confirmed
Dell creating Oculus Rift PC bundles
Razer showed a new webcam that will key out your background without a green screen
PDP announced an Xbox controller that charges in 60 seconds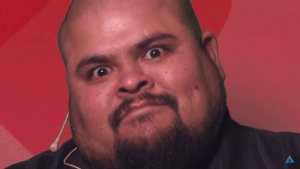 Alex told Evanne he was tired of her sexual dry spell interfering with her work, so he designed a segment to end it called 7 Minutes in Evanne, a "Dating Game" clone. Suitor number 1 was Big Mike G and Suitor number 2 was Alex. After all the questions, chat voted on the winner, but the numbers said that Suitors 1 and 2 would go on a date of their own! Mike G carried Alex off to the VO booth, where they made a beautiful connection. Evanne tried to ask Alex out before he was off the market forever, and the episode ended on a cliffhanger.
Ad blocker interference detected!
Wikia is a free-to-use site that makes money from advertising. We have a modified experience for viewers using ad blockers

Wikia is not accessible if you've made further modifications. Remove the custom ad blocker rule(s) and the page will load as expected.