"I like when the girls fuck the camera!"
The Attack
episode 112 aired on 11 December 2015. It was hosted by
Alex Corea
and
Evanne Friedmann
. The show was sponsored by Loot Crate, Alex showed off his ideas for an "Attack Crate." It contained lots of terrible stuff, including 3 Big Bang Theory DVDs.
Alex showed a Pile video where someone had made the energy weapons in Fallout 4 make a "pew pew" sound. Then he showed his own mod, the Friedmann mod, that changed the sound to Evanne's "yip" from Episode 107.
Alex and Kevin made a bunch of jokes about Evanne being rich.
A butt sniffer (Yaniv) was discovered in the studio and Kevin forcibly removed him. Alex was unsatisfied with the bit, so they did several more takes.
Blythe presented.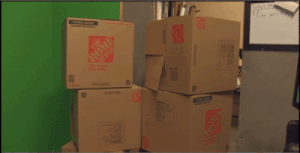 Attack Top Knewz
Edit
Ark Survival Evolved early access on Xbox One
Free Star Wars Google Cardboard
Valve nerfs CSGO Revolver
In Depth
Edit
Steam Controller
EA starting eSports division
Oculus Rift preorders soon, Eve Vakyrie is launch title
a study of Kickstarters found that about 9% of Kickstarters don't get returns.
Lindsey, Evanne's best friend, stopped by the studio and joined for TPOTSWIC.
Ad blocker interference detected!
Wikia is a free-to-use site that makes money from advertising. We have a modified experience for viewers using ad blockers

Wikia is not accessible if you've made further modifications. Remove the custom ad blocker rule(s) and the page will load as expected.