"You know how many 24-hour Fitnesses I've been kicked out of?!?"
The Attack
episode 111 aired on 9 December 2015. It was hosted by
Alex Corea
and
Hayli Metter
.
Alex showed off videos demostrating his horrible aim, which always seemed to ruin Yaniv's Jenga games. Also it killed Yaniv.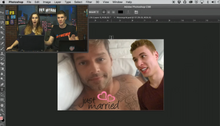 Inspired by a Pile video, Alex tried to run the show from voice commands instead of a mouse. It malfunctioned and revealed Alex's obsession with Ricky Martin to everyone. Alex violently smashed the computer.
Green Light District featured:
Let's Player Simulator
Ruckus Ridge
Kitten Rampage
Marball Rampage
Who's Your Daddy (Including a Let's Play!)
Blythe presented
Attack Top Knewz
Edit
Playstation Plus Free Weekend
Phil Spencer said he'd be happy to see Nintendo games on the Xbox
Elder Scrolls Online Free Weekend
New Mario Maker level that lets Mario drive a Mercedes
In Depth
Edit
Vive delayed, releasing April 2016
iPhone battery case
ManVsGame steamed to announce he'd been doing speed and wanted to quit.
Counter Strike huge update
The show closed out with TPOTSWIC.
Ad blocker interference detected!
Wikia is a free-to-use site that makes money from advertising. We have a modified experience for viewers using ad blockers

Wikia is not accessible if you've made further modifications. Remove the custom ad blocker rule(s) and the page will load as expected.