"The Last of Us would just be Last of Me."
The Attack
episode 108 aired on 2 December 2015. It was hosted by
Alex Corea
and
Evanne Friedmann
.
DrunkleTed and RetroJuba sent Alex some birthday gifts!
Jon Carnage appeared as a guest and talked about growing up with Skinemax movies. Then he destroyed an inflatable Olaf, pro wrestling style. He also "trimmed" a Christmas tree with a lightsaber and bodyslammed a shelf. Yaniv counted each of them out and declared Jon 'King of the Ring.'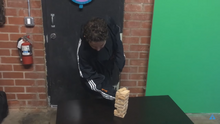 Alex bought a butter knife that he claimed was the sharpest knife in the world. It didn't seem to be working very well, but then he tossed it to Yaniv and it cut off both of his hands, ruining his chances at the Jenga world championships.
The show was again sponsored by EA's Star Wars: Galaxy of Heroes.
Green Light District featured:
Renegades of Orion
Briefcase
Flight of the Penguin
Spooky Christmas 3D
Square
In The Rundown, Blythe discussed:
Bloodborne servers being taken down for a day over an exploit
Project M being shut down
Rocket League coming to Xbox One.
The show ended with TPOTSWIC.
Ad blocker interference detected!
Wikia is a free-to-use site that makes money from advertising. We have a modified experience for viewers using ad blockers

Wikia is not accessible if you've made further modifications. Remove the custom ad blocker rule(s) and the page will load as expected.