"You're poor."
The Attack
episode 107 aired on 30 November 2015. It was hosted by
Alex Corea
and
Evanne Friedmann
.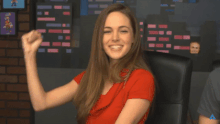 Alex and Evanne talked about their Thanksgiving break and hanging out over the weekend.
Alex cut a video of a drunk girl falling into a scene from Inception. Kevin got a call from his dying grandmother, but Alex didn't take it seriously because of the Seinfeld music playing.
We found out that Evanne can fix things by simply humping them and yelling "Yip!". She fixed a camera, Yaniv's bad back, a green screen, and a cake. Yaniv did a dance break.
Alex and Evanne played Urban Pictionary with Kevin and Zack Pearlman.
Blythe presented.
Attack Top Knewz
Edit
Arkham Origins devs have 2 AAA titles in the works
Microsoft marking down Xbox One bundle
Xbox One Elite controller sells out
Far Cry: Primal live gameplay footage soon
In Depth
Edit
Playstation Remote Play app
Amazon Delivery drones
Playstaion outsold Xbox on Black Friday
The show ended with TPOTSWIC.
Ad blocker interference detected!
Wikia is a free-to-use site that makes money from advertising. We have a modified experience for viewers using ad blockers

Wikia is not accessible if you've made further modifications. Remove the custom ad blocker rule(s) and the page will load as expected.