"Cows are just the worst. They're like living furniture."
The Attack
episode 104 aired on 18 November 2015. It was hosted by
Alex Corea
and Aly Lovelace.
Alex dreamed of a relationship with bread.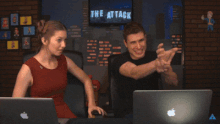 Aly and Alex talked about their early experiences with Star Wars Battlefront. Alex discovered that he has the Force while playing. He demonstrated his new powers by trying to pull Star Wars stuff over to the desk, but instead grabbed a dildo and a porn DVD. ' Alex took an anti-nipple stance. Then he translated the show's intro into Hebrew and back to English using Google Translate and Elan Languages to compare them.
Alex and Yaniv competed in blindfolded challenges, the loser of which got shocked. Alex cheated the whole time and Yaniv got shocked several times.
Blythe presented
Attack Top Knewz
Edit
Halo 5 has free expansion
Deus Ex delayed to Aug 2016
Battlefront activations not working on Playstation, but there is a fix
In Depth
Edit
Overwatch Beta opening to more people this weekend
Former Uncharted 4 dev defended microtransactions
Google adding ability to stream apps on Android phones
The show closed out with TPOTSWIC.
Ad blocker interference detected!
Wikia is a free-to-use site that makes money from advertising. We have a modified experience for viewers using ad blockers

Wikia is not accessible if you've made further modifications. Remove the custom ad blocker rule(s) and the page will load as expected.