"Milynn you don't have to help him."
"But the thing is, I'm gonna!"
The Attack
episode 103 aired on 16 November 2015, which was Alex's 21st birthday! It was hosted by
Alex Corea
and
Milynn Sarley
.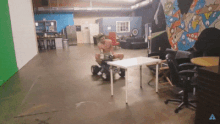 To celebrate his birthday (and the fact that he thought it was OK for him to drink and drive now), Alex drove around the studio drunk and nearly naked.
Alex added a laugh track to his computer for his birthday. He also celebrated the fact that he doesn't need a fake ID anymore, which is good because his was garbage.
Bario (Yaniv) stopped by to make drinks for Alex, but they were disgusting.
Alex cut together scenes from a bad trumpet player at a wedding and the movie Whiplash.
Bario returned after some donations with another terrible drink.
Alex made a joke about women drivers and Milynn beat the crap out of him, for real.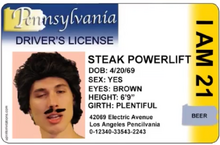 Bario made one more drink and Alex could barely even drink it. Someone donated $500 for Liz and Blythe to drink one!
Milynn called Alex a "pussy twink that can't drink." The Twitch chat (including Kevin!) began spamming #pussytwink, which became an Alex meme.
Green Light District featured: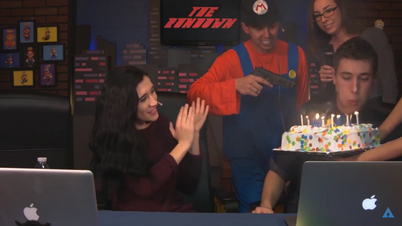 Arctic Alive
Party Golf
Hipster Axe
Iron Snout
Junk World 2
Blythe presented
Attack Top Knewz
Edit
Naughty Dog will make at least 1 more game for PS4
MLB mad about a Fallout 4 mod that uses David Ortiz's jersey
MS retires the Zune
Nintendo wins court case against PC boxes that pirate games
In Depth
Edit
Retiring the Zune (Liz brought in her Zunes!)
Fallout 4 game-breaking glitch
Xbox One button mapping revamped, but is limited
The show closed out with TPOTSWIC, and Evanne stopped by to answer questions! Bario made one more drink for everyone.
Ad blocker interference detected!
Wikia is a free-to-use site that makes money from advertising. We have a modified experience for viewers using ad blockers

Wikia is not accessible if you've made further modifications. Remove the custom ad blocker rule(s) and the page will load as expected.