"We're gonna make it just a big 'ol estrogen pile in here."
The Attack
episode 101 aired on 11 November 2015. It was hosted by
Alex Corea
and
Hayli Metter
. Hayli talked about her journey to Twitch streaming, and how she met Alex and
Los
at Blizzcon.
Alex showed some freaky characters that people had made in Fallout 4, and then ones that looked like celebrities.
Hayli had to guess whether or not Codsworth from Fallout 4 could say certain names. If she was incorrect, Liz would Henna tattoo the name to Alex. Alex ended up with "Hayli," "ASDF," "Assface," and "Bort" tattoos and more to come on Patreon after the show.
Aly Lovelace joined as a guest to talk about Blizzcon 2015. Alex showed off some new Hearthstone cards that he pitched to the designer.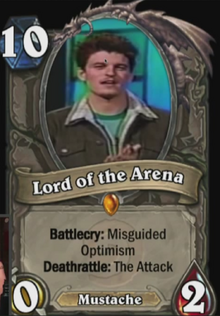 Blythe presented.
Attack Top Knewz
Edit
Fallout 4 is the most played game on steam (not produced by Valve)
Rise of the Tomb Raider has Twitch Interactivity
5.6M people watched Bob Ross on Twitch. Bob Ross will continue to air on Mondays on that channel
In Depth
Edit
Activision/Blizzard making TV and movies.
Xbox One cutting gesture feature for the dashboard
T-Mobile adding a "Binge-On" feature with unlimited data for streaming video
Nintendo's first batch of mobile games will be free to play with microtransactions
The show closed out with TPOTSWIC and they streambombed Sp00nerism.
Ad blocker interference detected!
Wikia is a free-to-use site that makes money from advertising. We have a modified experience for viewers using ad blockers

Wikia is not accessible if you've made further modifications. Remove the custom ad blocker rule(s) and the page will load as expected.