"Believe it or not, we've done a hundred of these fucking things!"
The Attack
episode 100 aired in 2015. It was hosted by
Alex Corea
and
Kevin Pereira
.
Gerard Deparjew appeared via satellite feed from Beijing to thank new Patreon patrons.
Kevin told a story about sitting next to a woman on a plane whose tablet password was blackd1ck.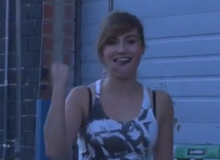 Alison Haislip appeared as a guest. Alex played a clip of the Dildo or Destiny game from episode 2 and of their Super Mario Bros 3 competition from episode 21. To even the pudding score, Alex created another game for her to play called Halo Spaceship or Indie Flick. Alex called her "Milynn" three times, so he got to wear a shock collar. The stream PC crashed and the show was down for a few minutes. Afterward, Alison was due to be pudding'd but escaped it again and Alex took the punishment.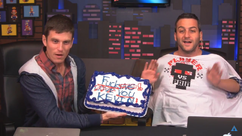 Alex played a supercut of all the times they'd hurt themselves on stream.
Jeff Cannata appeared as a guest, and Kevin recalled the time that Jeff said terrible things to him. KP tried to bury the hatchet, but Alex made it happen again! Jeff tried to repair the relationship with a game of friendship Jenga, but Alex sabotaged that too, until he was detected by Jeff's ghost detection wands.
Kevin introduced a list of the Attack's Greatest Shits: bits that were failures.
The Wizard from Zelda (Anthony Carboni) stopped by the set for the first time since episode 4! He revealed that he had in fact been there the whole time. Los cut to old clips to confirm this, but unfortunately also cut to the Kennedy assassination, putting the wizard in a very uncomfortable spot.
Milynn Sarley appeared as a guest to discuss her experiences cohosting with Alex. She got shock-collar revenge on Alex for breaking her finger.
During the show, they met their $6500 Patreon goal!
Knob Ross (Alex) stopped by to wish the Attack a happy 100th episode, and may have accidentally revealed that he'd kidnapped his ex-wife.
In a rare moment of sincerity, Kevin thanked Alex for his hard work on the show. Then Milynn shocked him again.
Ad blocker interference detected!
Wikia is a free-to-use site that makes money from advertising. We have a modified experience for viewers using ad blockers

Wikia is not accessible if you've made further modifications. Remove the custom ad blocker rule(s) and the page will load as expected.