Alison Haislip has appeared several times on The Attack as a guest host. She is a host and actress, and cohosts the Half Hour Happy Hour podcast with Alex Albrecht.
Kevin called her to talk about her Taco Bell commercial in Front Page Episode 33.
List of Attack Appearances
Edit
Ep

#

Title
Air Date
2
Attack Morning Show
18 Feb 2015
21
The Attack
12 Apr 2015
100
One Hundredth Episode
9 Nov 2015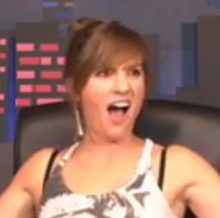 Ad blocker interference detected!
Wikia is a free-to-use site that makes money from advertising. We have a modified experience for viewers using ad blockers

Wikia is not accessible if you've made further modifications. Remove the custom ad blocker rule(s) and the page will load as expected.